If you are suffering from hearing loss and want to stay connected with the world you love but don't want to cost a fortune, try Svinz hearing aids now. 
Invisible Hearing Aids: Smaller size, better sound, maximum comfort.
Svinz nano hearing aids are different from traditional head-mounted and ear-hook hearing aid.
Svinz hearing aids are as discreet as they come. They fit perfectly inside your ear canal without sticking out. People won't notice they're even there and you are free to attend various occasions.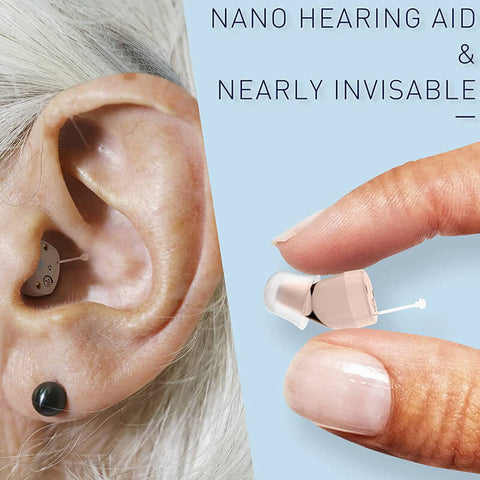 Rechargeable Hearing Aids: 40 hours of continuous use, battery case supports 4 cycle times fully charged. If daily use 8 hours a day, your hearing aid can stand-by for 20 days.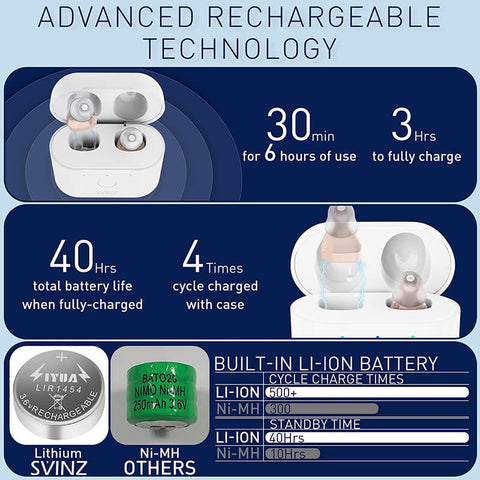 Noise Reduction Technology & Long Working Time: Pre-programmed to automatically isolate sounds during conversations, listening to music and the TV.
Svinz hearing aid boosts the sound around you to help overcome the sound of tinnitus and make it less noticeable.
Easy to Use: We simplify operations for seniors, auto-on when taking out from battery case, auto-charging when putting back your hearing amplifier.  
Easy to use, friendly operations for seniors. We remove physical buttons on switch and charging instead with auto-on and auto-charging.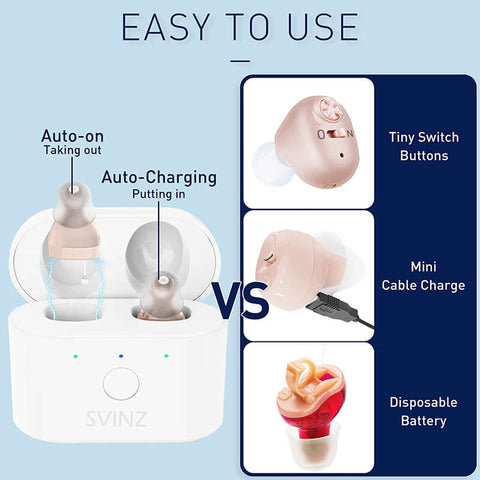 Comfortable to Wear: Lightweight and in-the-ear redesign.
Each pair comes with 2 types/3 sizes ear domes. Fit snugly to make wearing comfortable, howling less.
Svinz C400 builds with a scientifically proportioned size design, which is more suitable for different people's ear canals.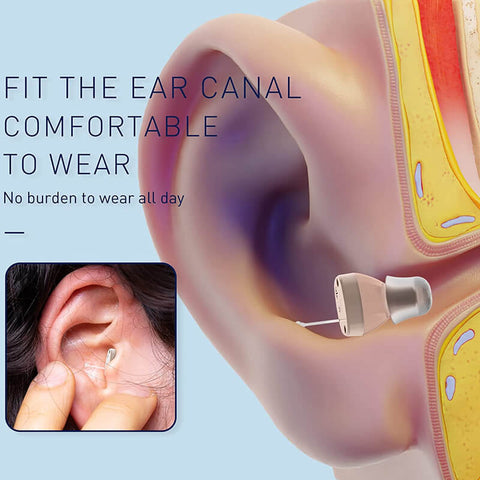 Pocket to Go: Nano hearing aids can be put into your pocket, bringing more freedom to life, watch TV, go outdoor, travelling, meeting friends...
To Whom We Care: Svinz always puts customers first. To serve everyone with due diligence, we provide 7*24hrs technical support, 12 months worry-free return.
SVINZ CUSTOMER DEMO
QUESTIONS?
Here are some questions you might want answers to before you invest in Svinz new invisible hearing aids.
 Will Svinz hearing aids Work for Me Without Me Being Tested?
ANSWER: Svinz hearing aids allow you to pick different mode settings and volume settings so you can find the best combination of sound for your ears. You don't need an audiogram (hearing test) to purchase Svinz hearing aids. 
 What's Your Guarantee and Warranty?
ANSWER: Svinz offers a risk free money-back guarantee. This gives you total peace of mind!
 How are these still good quality if the price is so low?
ANSWER: We cut out the middleman, which means no doctors, rent, and other overhead expenses to pay. But we keep the chip technology required to deliver powerful, high quality sound to your ears.
 How do I know these will fit me properly without me being fitted?
ANSWER: We include multiple earbud sizes to help you find a great fit, and if for some reason none of them fit perfectly, just contact us and we'll ship you more earbuds or help you get you one of our other devices that will fit you.